Pula Film Festival Programmes – without COVID certificates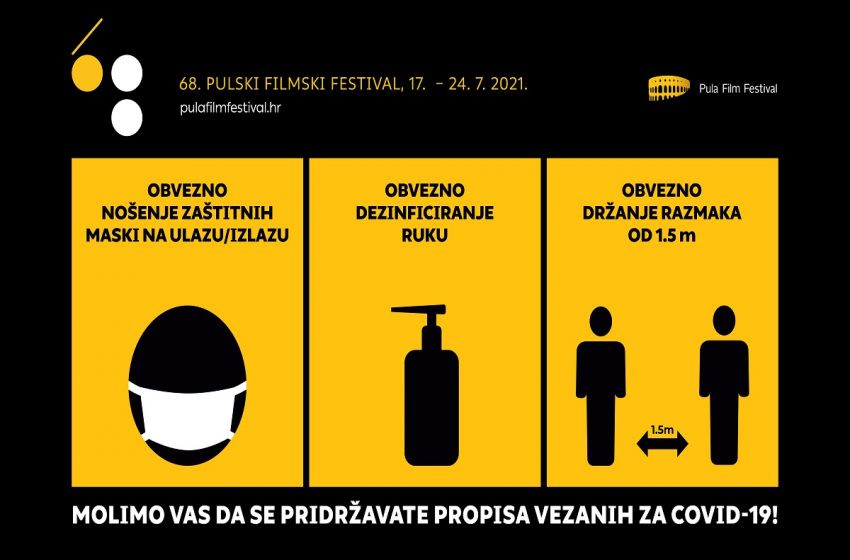 The 68th Pula Film Festival will be held, in line with the approved recommendations of Istria County Civil Protection Headquarters, under epidemiological measures, which entail: distancing, wearing protective face masks, disinfection of hands, and noting contact at entrances. COVID passports or testing certificates are not needed at any of the venues.
ARENA
Capacity: 1,500 seats
Entrances open at 8 p.m. Visitors can use 5 entrances, and are required to:
disinfect their hands when entering
wear a protective face mask covering the mouth and nose while entering or exiting
state their information into a voice recorder
All employees coming into contact with visitors have to wear face masks during their entire working hours, while the persons scanning the tickets at the entrances, disinfecting visitors' hands, and handing out voting forms, have to wear both face masks and gloves.
The entering of visitors is planned in such a way as to first fill the seats furthest from the entrances, and the exiting in such a way as to first empty the seats closest to the exits.
There will be no food or drink services offered at the Arena.
Once the visitors take their seats, they can lower their face masks.
KAŠTEL
Capacity: 120 people
Entrances open at 8 p.m. Visitors are required to:
disinfect their hands when entering
wear a protective face mask covering the mouth and nose while entering or exiting
state their information into a voice recorder
VALLI CINEMA
Capacity: 62 people
Visitors are required to:
disinfect their hands when entering
have their body temperature taken
wear a protective face mask covering the mouth and nose while entering or exiting
fill in their data into a contacts list
ISTRIAN NATIONAL THEATRE
Capacity: 218 people
Visitors are required to:
disinfect their hands when entering
have their body temperature taken
wear a protective face mask covering the mouth and nose while entering or exiting
fill in their data into a contacts list