Pula Film Factory Wins Marijan Rotar Award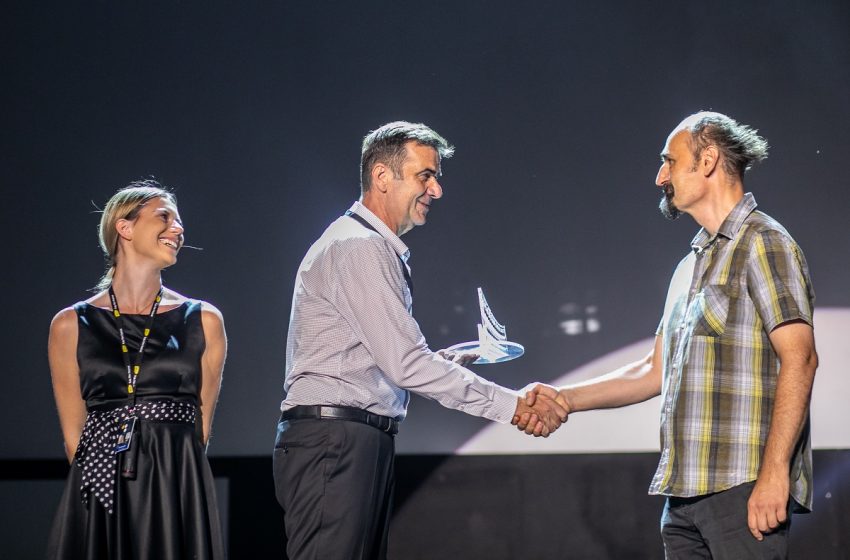 The Marijan Rotar Award, traditionally presented for exceptional contribution to Pula film culture, was presented to Marko Zdravković-Kunac, founder and president of Pula Film Factory on Tuesday, 20 July at Pula Film Festival.
Pula Film Factory is one of the rare factories in Pula that is still operational, said the host Jelena Vidušin at the start and added, in which groups of dedicated enthusiasts have been making documentary, live action, and experimental films for years and screening them at meetings at the factory, as well as sending them to revues and festivals. This factory takes care of the youth and children, organises film culture workshops for them, teaches them how to make animated films, and how to visualise their uninhibited ideas. It is also a place where young creators are presented, where new films and film classics are screened. The workers of this factory are restoring Pula's film history, dusting off archival mosaics of Jelen Cinema Club and breathing new life into them. Miodrag Čerina, President of the Governing Board of Pula Film Festival presented the award to Zdravković-Kunac.
I would like to thank everyone who has contributed to Pula Film Factory winning this award, primarily the numerous members, facilitators, and educators, without whom Pula Film Factory could not exist or run so many programmes. Pula Film Factory began its work as part of this Festival in 2004, when a critical mass came together who wanted to work in film year-round. We founded the association and then the club in 2011, and next year we will celebrate 18 years of work and become of age, and will be able to do even wilder, better things. It all sprang out of the idea that film is a medium, and that every person has a story that can be told through film, Zdravković-Kunac told the audience.
The start of Pula Film Factory was in 2004, when a month-long workshop was organised in cooperation with Pula Film Festival, focusing on making a documentary film, and which was later on called Summer Film Workshop Pula Film Factory. Pula Film Factory's Club is based at Stiglicheva 12, a heartbeat away from the Arena, where it creates all year round.
Following the presentation of the award, Elvis Lenić's short experimental film Monologue on Pula was screened. The film was produced by Pula Film Factory and is inspired by the short film Monologue on Split by Ivan Martinac from the early 1960s. Monologue on Pula follows Martinac's screenplay to the word, alternating between visual elements of the Mediterranean, transience, and death from the archive footage of Pula from the 1970s and 1980s produced by Jelen Cinema Club. The footage includes scenes of the popular beach Zlatne stijene (Golden Rocks), city cemetery Monte Giro, city bustle and everyday life of the city centre from Giardini, Sergijevaca Street and Uljanik shipyard, finishing with the scenes of the then closed Istrian National Theatre.
The film Monologue on Pula by Elvis Lenić is screening at the exhibition Think Film: Cinemaniac XX at Pula City Gallery until 29 July.